Fully licensed and insured rubbish clearance professionals...
At Junkbusters we offer a wide range of different rubbish removal services in Birmingham. We offer same day rubbish removals to both domestic and commercial clients across Birmingham, collecting and disposing of a range of different types of waste. We are fully licensed and able to collect white goods, furniture, general household waste, scrap metal and any type of electrical system,
Take a moment to look through a few of the ways in which we can help and why Junkbusters should be your only team of rubbish removal in Birmingham.
Get in touch with our team directly regarding rubbish clearances around the midlands area, contact us directly on 07404 360 379 for more information about how we can help you!
Why Us for Rubbish Removals in Birmingham
There are many reasons why you should choose us for rubbish removals over organising and hiring a skip. As a company, we want to make the whole experience as easy and stress-free as possible and will adapt our methods to suit your needs. Have a look through a few of the reasons and points to consider when you are in need of rubbish removal in Birmingham.
Skips can often take up a lot of your space, time and money. Our rubbish removal in Birmingham services can reduce these cost and have your property clear the very same day.
Sometimes in order to hire a skip you may need a permit to be organised with the local council. When you would with a rubbish removal company, you won't need to do a thing. Our team will be in and out the very same day.
Organising and arranging a skip to be dropped off and collected can be time-consuming. However, when you work with a rubbish clearance company in Birmingham, the whole process can take a matter of hours. With skips, the majority of the work is left for you to do. For example carrying and loading the waste to the skip. When you work with our team of professionals, they will do everything for you.
As our rubbish removals in Birmingham can be carried out within a matter of hours, you will benefit from your property becoming clean & tidy and ready for your next project. Compared to skip hire, where you could have an unsightly skip in or around your property for a number of days.
When you work with our team for rubbish removals in Birmingham, you won't have to lift a finger. Our experts will do it all for you and even sweep up the floors once they are done.
Overall, rubbish removals in Birmingham are a fast, efficient and effective for any property or office clearance. When you work with Junkbusters, our team will adapt their service to meet your needs.
We work closely with many local businesses to help keep their day to day operations running as smoothly as possible.
We can supply you with a skip bag, allowing you to fill it up throughout your project and then arrange a time for our team to pick it up!
Sometimes the rubbish you want to dispose of can be awkward, our trained professionals are here and ready to help you!
Our team can be scheduled for daily, weekly or monthly collections. They will work around you to provide a quality service.
We take efficiency seriously. Our team of professionals will work towards tight schedules you put in place.
At Junkbusters, we are constantly looking for ways to make our service as environmentally friendly as possible. Donating to charity and reusing items we collect.
All of our team are fully licensed and registered for waste collection. They have received all of the necessary education to dispose of all waste correctly and safely.
Here at Junkbusters we are always looking for ways to make our service more efficient and effective, offering the very best prices that we can offer.
Our team are always willing to fit our services around you, working to your specific needs and helping in any way possible.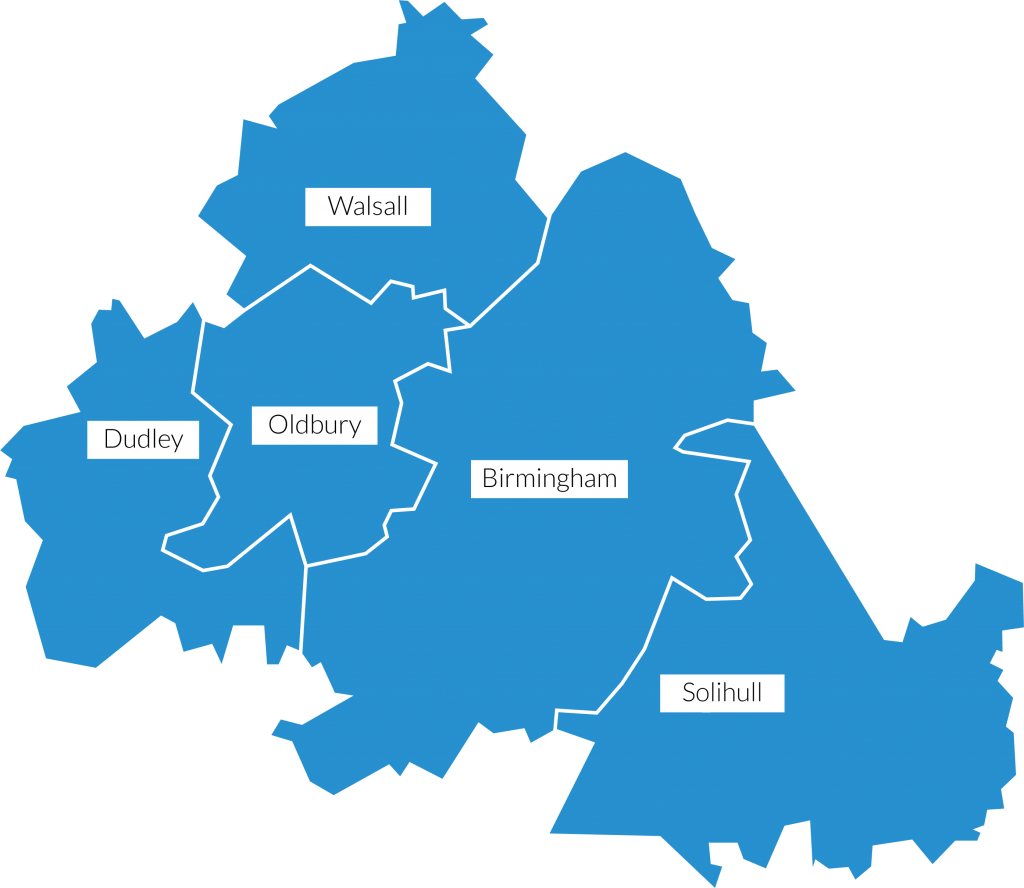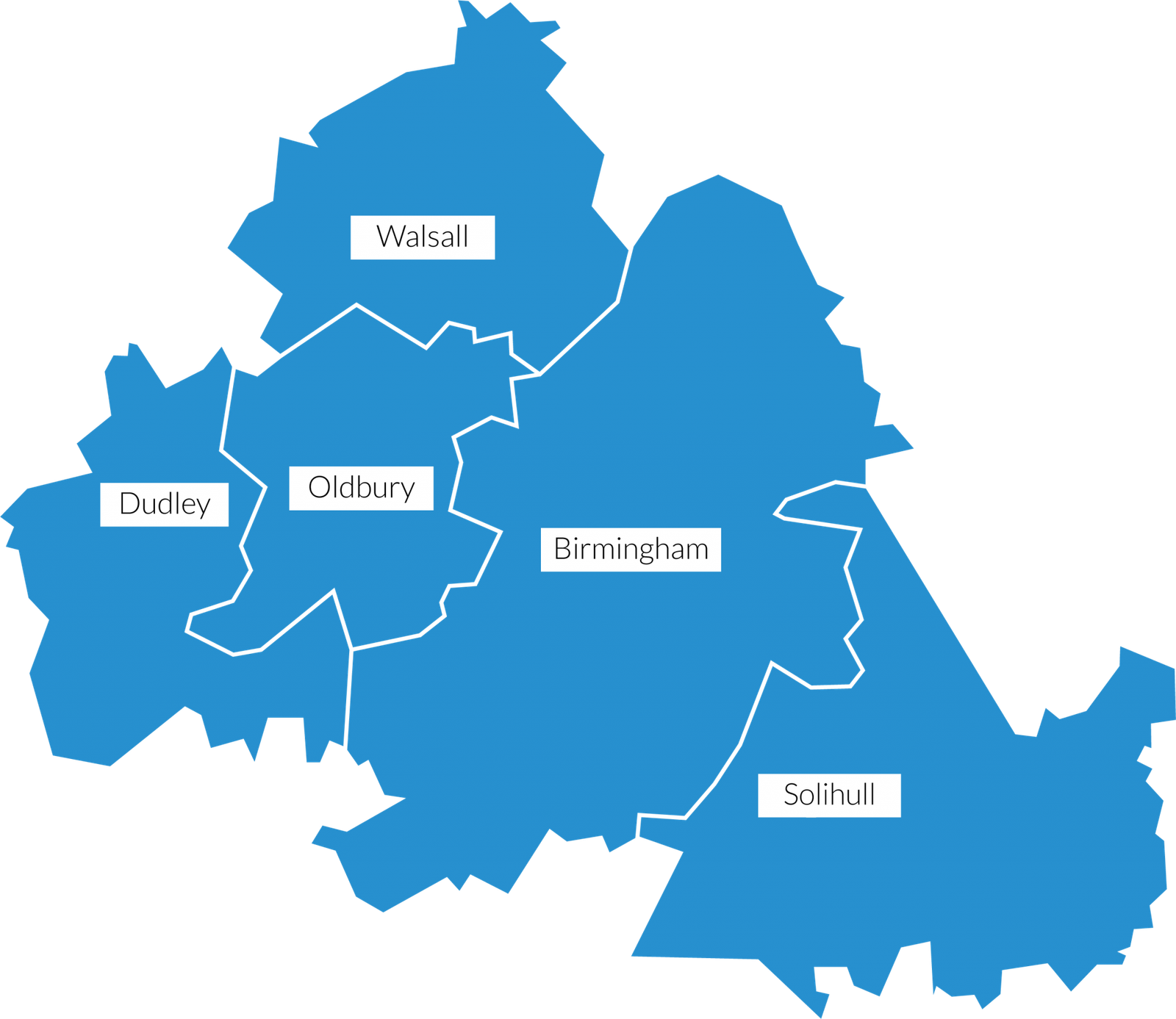 Working Throughout The Midlands
Here at Junkbusters we cover all of the Midlands, supplying a level of service that is simply unmatched in the local region. Here are some of the surrounding areas...
Our team of experts provide a range of different services depending on you and your needs. Have a look through what we can do for you,  here's a list of a few materials we can dispose of for you safely.
If you are looking for a certain material that you would like to dispose of but can't see the list, please get in touch with our team directly on 07404 360 379 or 0800 488 0317.
Need some professional help?
Get in touch with our experts today to receive some professional advice or to arrange a free quotation!