Decluttering your Garage or Garden Shed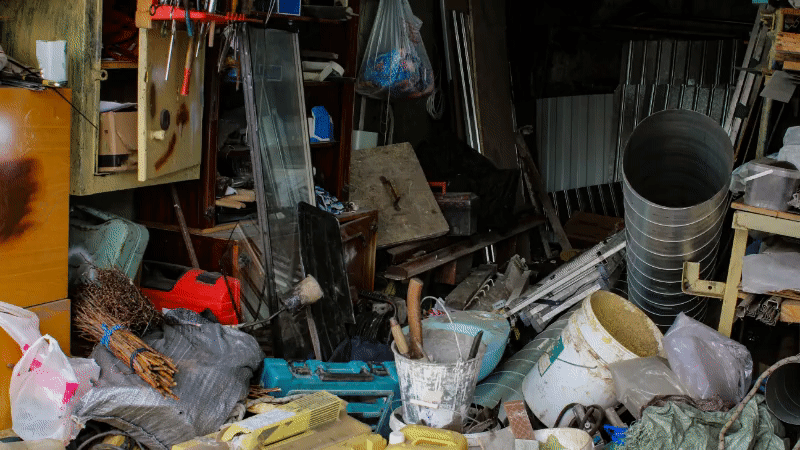 Did you know that nearly 60% of households, don't have enough space to park a car in their garage because of clutter. A lot of us avoid it, then we drive past our neighbours and its spotless. With shelves across the walls and every item, neatly placed in its correct spot.
We go home and continue to toss items, amongst an ever increasing pile, promising to ourselves we will tackle it soon.
So today we are going to change that, Junkbusters.co.uk has got you covered. You'll be the envy of your neighbours again in no time.
You're going to need some equipment for this, so get ready.
A pen, note pad, medium sized boxes, cello-tape, gloves, boots, car or van and good old graft.
Step 1: Preparation
First thing first, make a start. Pick up that pen and note pad, head to the garage and make a list.
The list should contain, what you would like to "Keep" "Rubbish", "Sell", "Charity".
So now, you're thinking, set some time aside, a weekend, skip that golf or drink you've got planned for later in the week.
Also recruit the other house members, there guilty to, so get them involved and schedule a date. For a big clear out.
Step 2: Decluttering day
On the declutter day, try to get up early. Assemble the boxes and label them, "Keep" "Rubbish", "Sell", "Charity". Tip, don't get very big boxes as this will make lifting difficult later.
Now visualise and refer to your notes, on what you want to keep, sell on, donate to charity and throw away.
Tip! Donating items to charity, will help the local community, is environmentally friendly and will save you money on waste disposal fees.
Step 3: Start Decluttering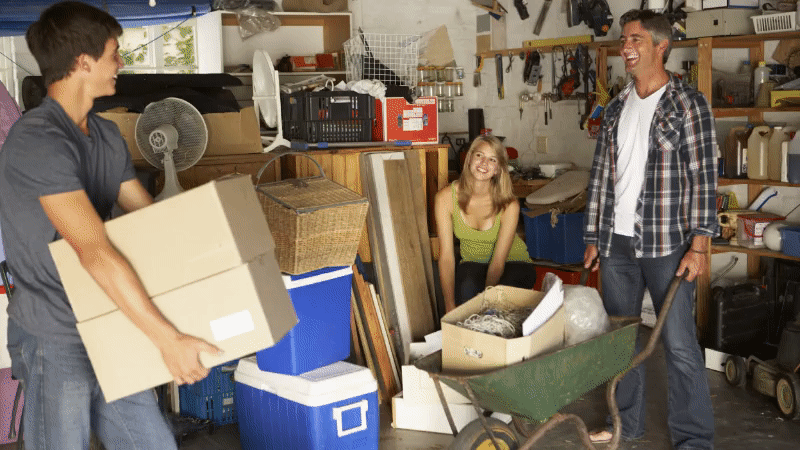 You might want to put some gloves on and steel toe caps, if you're handling heavy items or sharp objects.
Sort the items into various labelled boxes, don't forget to get others to help.
Once you've completed the sorting process, take whatever you can to the charity shop and any rubbish to the local tip.
Now plan a day to visit the carboot to declutter quickly or list items on eBay or other online sale sites.
Revisit your garage, visualise how you would like your decluttered garage to be laid out, with the "Keep" boxes. You my decide at this point, to purchase shelves or storage units. This will help keep everything organised and easy to access.
Plan your sorted garage.
Now its time to get organised, well done if you've gotten this far, you're nearly there. Now if you want to get a car in, you need to think about space.
Try visualise where you would like to store particular items, in the "Keep boxes".
Group items together, items used regularly should be kept close and within easy reach. Others can be placed on top of shelves or in the furthest coroner.
You could create areas, for example, garden equipment, Car fluid and tools, sentimental items.
Place larger, bulky items to the back of the garage.
Now you've finished, well done!
You'll feel much happier visiting your garage. Now make effort, to keep it clear all year round.
Keep that floor tidy, by regular sweeping.
If it starts to build up clutter again, plan a few hours to get it done, that way you'll keep on top of it.
If you don't have time
We are a domestic and commercial clearance company based in birmingham, which operates throughout the Midlands. We provide same day rubbish and removal services, carrying out all the lifting and loading.
The majority of our collected waste, is either recycled, donated to charities or reused.
Visit our website to for a free no obligation quote, www.junkbusters.co.uk.